Cleaning up her beauty routine
As the founder of clean beauty brand Tower 28, it's no surprise that Amy Liu has seemingly flawless skin—but her skincare journey hasn't been an easy one. She has dealt with severe eczema for most of her adult life, relying on harsh steroids to keep it at bay for longer than she'd like to admit. 
"Because of this, I couldn't really enjoy the best part of working in the beauty industry— trying out all the products," Liu says. "I saw a gap for makeup that was high-performance and reasonably priced, while being 100% clean and safe for sensitive skin." That 'aha' moment led her to launch Tower 28, the first beauty brand that follows the National Eczema Association's ingredient guidelines, making it free of every known skin irritant.
As for her hair routine, Liu says it's the same every day: long, straight and parted down the middle. She washes her hair about three times a week and almost never blow-dries it. "I usually wrap it into a twisted low bun while it's still wet in hopes of creating some texture," she says. "In between washes, I use dry shampoo to help keep oil away and so my hair isn't flat against my head."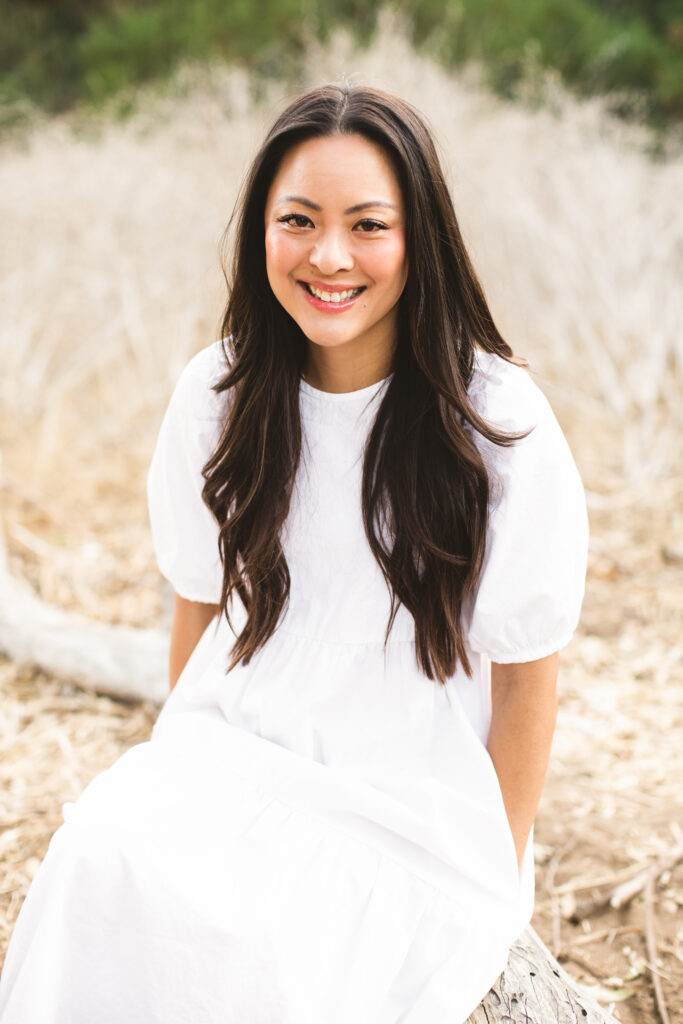 After a few attempts to mix things up, Liu is fine with embracing her natural locks. "I guess you always want what you don't have and I have stick straight hair," she says. "When I was a kid, perms were very popular. I got one and it gave me a chemical burn on my neck, not to mention it damaged my hair. As a result of that experience, I've pretty much shied away from any treatments including color (with the exception of Sun-In in high school, which is another failed attempt!)."
Creating an accessible, inclusive brand
But as founder and CEO of Tower 28, Liu says her goals for the brand go more than skin deep. "My mission is to create an inclusive and accessible beauty company designed for sensitive skin and made for all skin tones, skin types, budgets, and beauty philosophies—but one that's still *fun* and reflective of the healthy LA lifestyle I know and love," she says.
Before launching Tower 28, she worked in beauty for over fifteen years and saw  that a lot of the clean and natural brands were very expensive and hard to find at larger retailers, making it difficult for everyone to enjoy the benefits. "I knew that there was a way to reduce costs by not using things like custom packaging, and just focusing on the product inside," Liu says. "By doing this we have been able to keep everything at $28 and under, which has hopefully opened clean beauty to new demographics."
Ensuring safety for sensitive skin
It was also crucial to Liu that every single product be safe for sensitive skin, particularly for eczema, since she knew that there were other people like herself who struggled to find beauty products that wouldn't trigger a reaction. In addition to being safe for eczema, Tower 28 develops products for all sensitive skin types in mind, including acneic and generally problematic skin.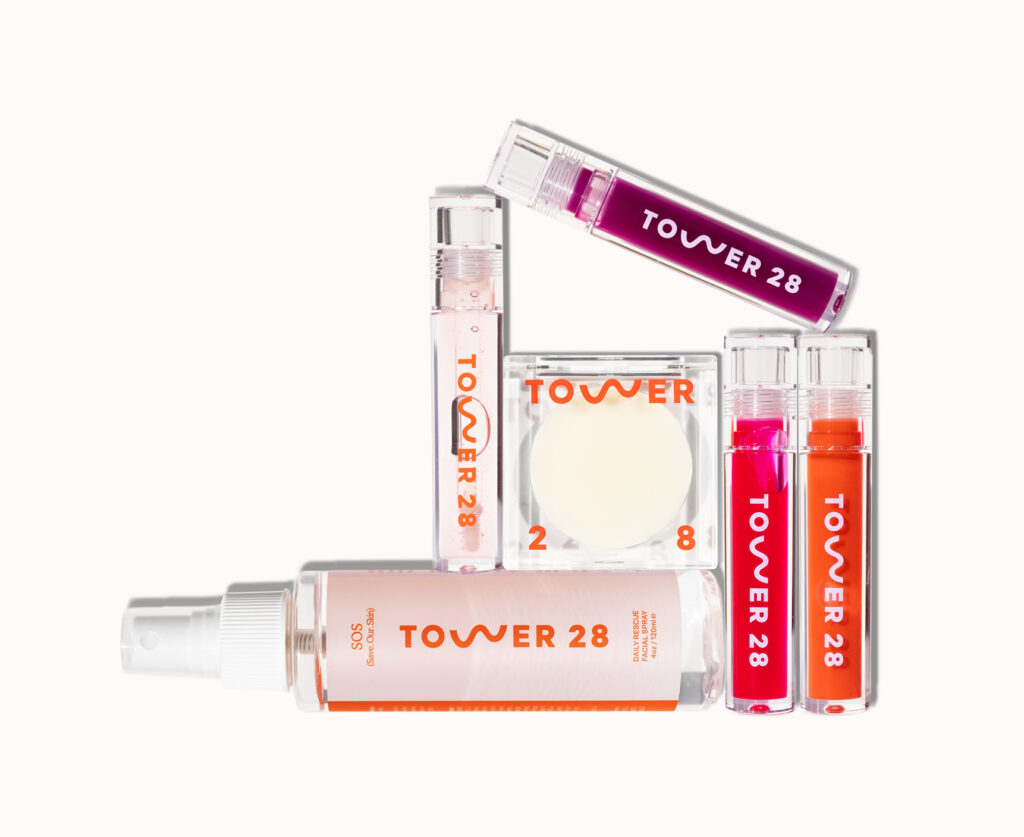 "Oftentimes people think that natural or clean products are automatically going to be safe for sensitive skin but the truth is that there are a lot of harsh naturally-derived ingredients," Liu says. "Things like essential oils and fragrances would cause my eczema to flare up even when found in a completely 'clean' formula. Understanding that difference really highlighted the importance of making products that weren't just clean, but first and foremost, safe for sensitive skin." 
Having that goal for sensitive skin safety made it a challenge to develop the products. Tower 28 follows the National Eczema Associations guidelines as well as The Credo Clean Beauty Standard, and they have an extensive list of blacklisted ingredients which customers can find on their website. "Because of this, we work with the best chemists in the business to help us find new solutions in creating sensitive skin-friendly versions of our favorite beauty products," Liu says. "Sometimes we go through over 20 iterations until it's just right!" 
Establishing the Clean Beauty Summer School
Tower 28's social impact is also top of mind for Liu. "We want to make clean beauty more accessible to everyone while also helping to support other BIPOC-owned brands around us to succeed in the industry," she says. Another cornerstone of the brand is Liu being a key voice in the push for diversity in beauty. "As an Asian woman who was born and raised in the US, I know how much representation really matters," she says. "I didn't have many role models who looked like me growing up, and I think the more that we can push for diversity and inclusion, the better the world will be for it. The beauty industry has made great strides but the only way it will continue is through diverse voices in decision making capacities."
To help pave the way, Tower 28 launched Clean Beauty Summer School in 2020 as a way to support early stage BIPOC founders. "During the Black Lives Matter protests last year, we were looking to find more meaningful ways that we could help support the Black community and push for inclusion, and decided to take action by starting this collective effort by founders and leaders in the beauty industry to support the growth of majority Black-owned small clean beauty businesses," Liu says. "Our goal was to provide education, network mentorship and opportunity to accelerate Black entrepreneurs. We found so much success in the program and just wrapped up our second year, opening it up to BIPOC-owned brands as well. We see this as a huge part of the Tower 28 brand and look forward to continuing this mentorship program for years to come."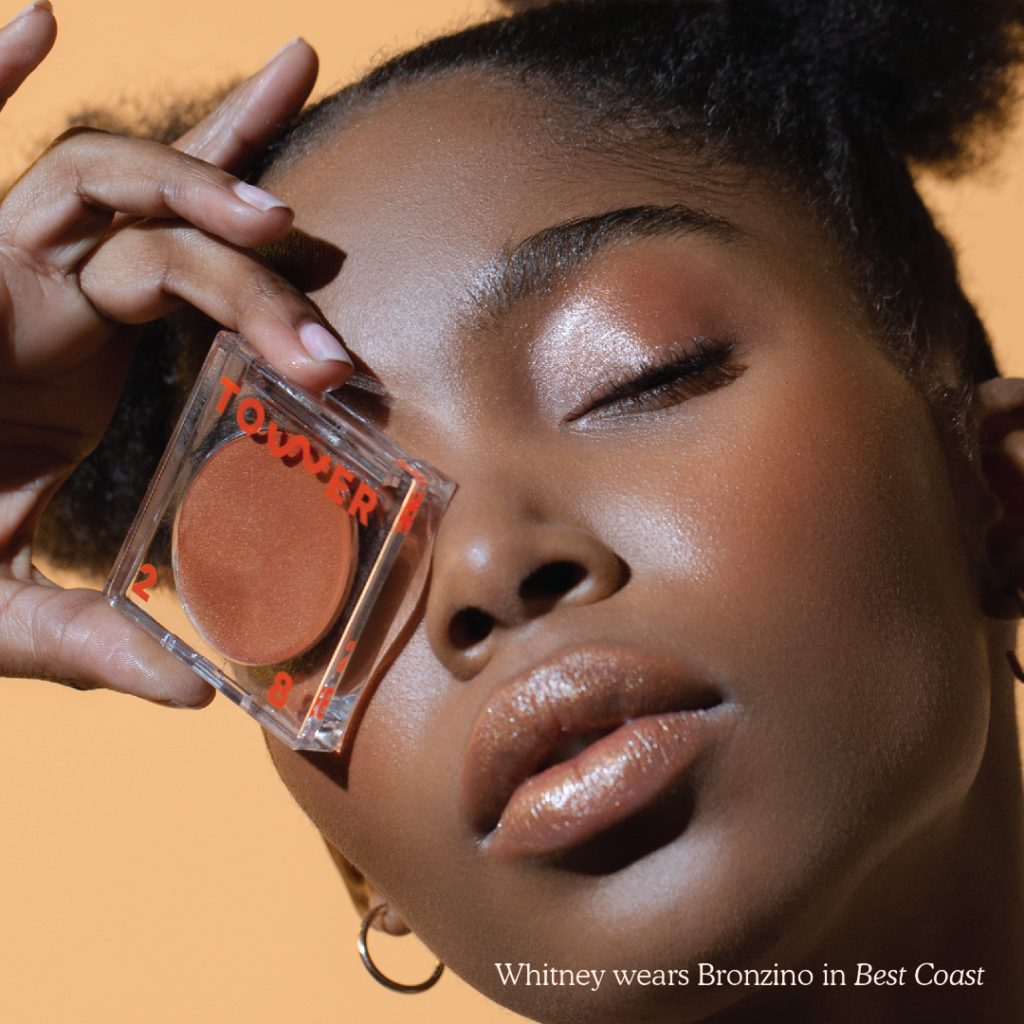 For Liu, it's all about creating a sense of community. "I believe in collaboration over competition and so many others I know in the industry do, too," she says. "Education and mentorship are invaluable and I was so fortunate to have had these things when launching Tower 28. I hope that in spreading this knowledge, we can help these incredible brands thrive and continue to see lasting change in the beauty industry."
Speaking out even when it's tough
An ongoing mission for Liu is encouraging those conversations. "The last two years have really shown us how important it is for brands to take a stand and address the critical issues in the world," Liu says. "For too many years companies have stayed quiet and consumers, rightfully so, want to know where they are putting their money in order to support brands that stand by their same values."
That's why Tower 28 has made a conscious decision as a brand to speak out in the press, through social media and with meaningful initiatives to spark and continue these important conversations about diversity and inclusion. "More recently I worked with my friends at Tatcha, Krave Beauty, and Peach and Lily, among others, to put out an open letter and pledge in the Wall Street Journal to end the violence and racism against Asians in America," Liu says. "Though the subject matter was super painful for me, I felt proud to be able to stand with my community at such a crucial point in US history in the hope to make a difference." Tower 28 pushes the boundaries of what a business can be by going beyond clean beauty and fighting for equality for all.