"A scalp brush can help with blood circulation to the scalp, headaches, exfoliation and overall scalp health," says Holly Dear, owner of House of Dear Hair Salon in Dallas, Texas and House of Dear clean beauty line. When shopping for a scalp massager there are a few qualities to look for. "You want to make sure that the bristles are relatively soft, flexible and have movement but not too soft that you don't feel the benefits," explains Dear.
To keep your scalp safe, it's crucial to use a scalp massager or brush only when in the shower. "It is important to use in the shower with shampoo because it helps to remove unwanted debris and rinse it away when finished," Dear says. "It is important to use a clean shampoo that is free of all the dirty ingredients and carcinogens because the scalp brush helps the active ingredients penetrate the scalp and create the healing benefits of the active ingredients. Make sure to work the product in the scalp with circular motion. This also helps to remove product debris and dandruff that might be sitting on the scalp."
Maximize results by using a scalp brush or massager three to four times a week or every time you shampoo, according to Dear. These scalp massagers will help you get the job done.
1. Conair The Basik Edition Scalp Massage & Detangle Brush
Tangle-prone hair will love this scalp massager that does double duty as a detangling brush. Made with soft silicone bristles that can slide right through knots sans any snagging, the ergonomic handle makes it easy and comfortable to use. In addition to stimulating the scalp, it also loosens and removes product buildup. It has a handy loop to hang it in the shower for easy access. $10, ulta.com
2. Better Not Younger Superpower Liquid Comb – Scalp Massaging Serum Applicator
Using this scalp massager with an oil or serum works to give thinning hair serious help by improving density and growth through the combination of massage and applying your product's active ingredients close to the scalp and hair follicles. $25, ulta.com
3. Virtue Flourish Manta Brush 
Those with thinning hair might be nervous to work a scalp brush into their delicate mane, but this one is made specifically for fragile strands, so there's no need to worry. The cleverly designed brush bends and molds according to the shape of your head to reduce tension on hair, plus it has flexible bristles to minimize breakage. In addition to massaging the scalp to deliver loads of shine, it also soothes and detangles hair. $32, virtuelabs.com
4. Wet Brush Lavender Exfoliating Scalp Massager
Quite the multitasker, this scalp brush cleanses, detoxifies and reinvigorates the scalp for healthy hair, leaving hair follicles squeaky clean. Gentle enough for even the most sensitive scalps, it won't pull on hair or cause knots. Fill it up with your favorite shampoo and get massaging! $14, ulta.com
5. Tangle Teezer The Scalp Exfoliator & Massager
The International Trichology Congress gave this scalp brush their official thumbs up! Its two-tier teeth work to detox the scalp and get rid of product buildup, all while the soothing massage improves relaxation and circulation. Talk about teamwork: The flexible long teeth take care of exfoliation and the short, thick teeth activate pressure points. Thanks to its winged design, the scalp massager will fit comfortably in anyone's hand and won't slip in the shower. $10, ulta.com
6. Diane Shampoo Massage Brush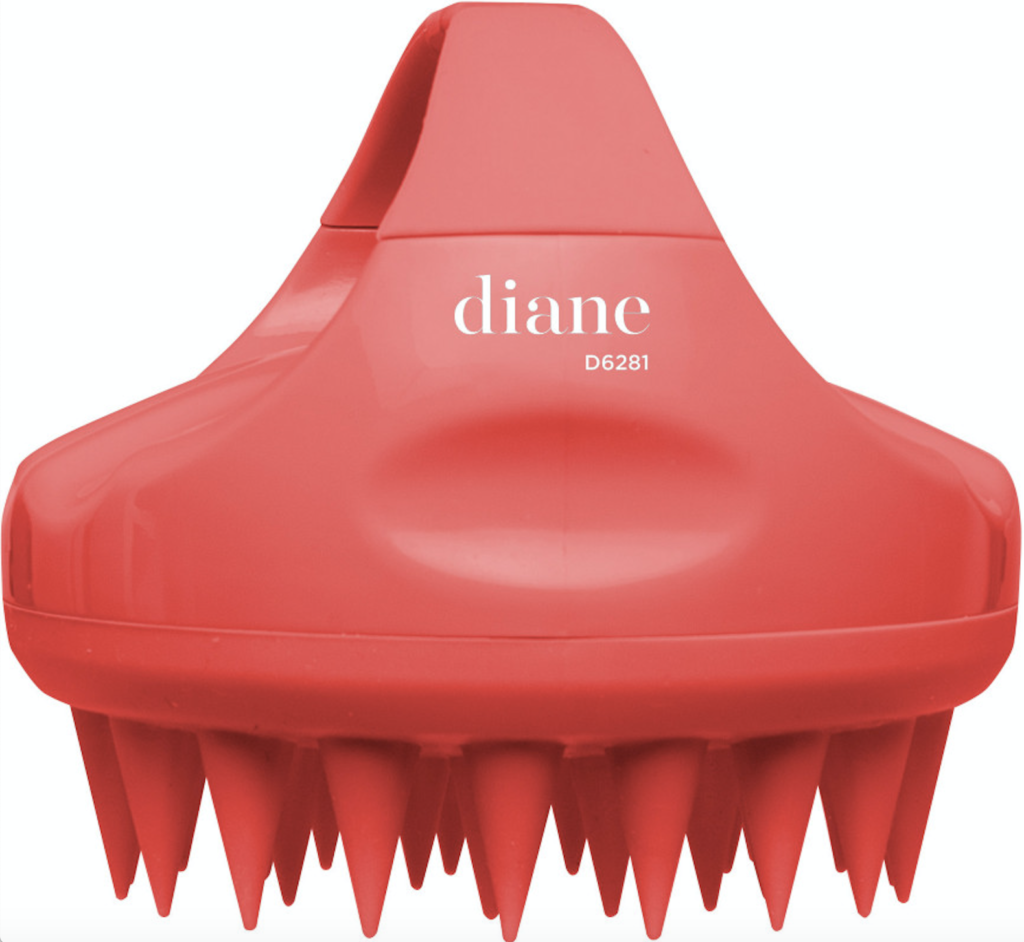 Get a deep cleanse while exfoliating in the shower with this scalp massager. Its soft silicone teeth are ideal for getting the job done and giving circulation an extra jolt for healthy hair. Bonus: The wide handle is easy to grip. $8, ulta.com
There are a ton of benefits to giving yourself a scalp massage and by using a scalp massager you'll really amp up the exfoliating and scalp health perks a massage can bring on.