Chapter 1: Hairstyles of the Aughts
When I was really little, my mom would take me to a salon chain called Famous Hair and just ask them to give me the "number three." I did shaved sides and a side part, and combed everyday, like a clean-cut country boy. I grew up in the aughts all the way out in the boonies of Ohio. You could say there were some questionable style decisions and trends at the time. Those were the days of hair gel, hair gel, and more hair gel, which informed my most regretful hair decision. I even hesitate to mention it now, but I have to tell you. I had short hair — basically buzzed, but with really long bangs. And what did I do with those bangs? I used gel to brush the bangs forward. Yup, I did that. I had bangs just jutting out at the top of my head, like a baseball cap. But it gets worse — it was colored gel. Green, even! I look at the few pictures I have from that period, and it looks like I put slime in my hair. I just cringe and ask myself "why?" It was a bad mix of colors and a bad look overall. It was…slimy. I even remember the way it felt when I would run my hands through my hair. It did not feel good. I don't know why I did that, but it lasted a solid year.
When I hit middle school, I had a bit of a Harry Potter and the Goblet of Fire thing going on. My hair was long and shapeless, like the characters in the movie. That was my style for a while. It looked bad. I look back on a lot of my past hairstyles with shame and just think, "What was I doing?" But in the moment, I loved my hair. And I've always felt a connection to my hair for its color.
Chapter 2: The Exclusivity of Red
I'm one of the only redheads in my entire family. My sister and I are the only ones. I have always loved that. My dad's family is Irish, so our best guess is there was a redhead gene somewhere in there that we were lucky enough to get. I say lucky, because red hair is just so rare. Something like only 1% of the population has red hair. Being a redhead is like being part of a special club. I could be on the subway one morning with more than 100 people on the same train and be the only redhead out of all of them. I'm a statistical anomaly.
I stick out in my own family, too. My parents both have dark brown hair. All of my extended family has some shade of brown hair. We have no redheads aside from my sister. No blondes. It's kind of a running joke that I'm the milkman's baby. My red hair was a topic that came up very often when I was growing up, and one that still comes up today. I would say it comes up at least once every holiday when my whole family gets together. They'll say, "We got the redheads over here" about my sister and me. It's our most defining physical trait. We'll talk about who in the family may have had red hair to try to solve the mystery, but the mystery continues. There's something quite elusive about that.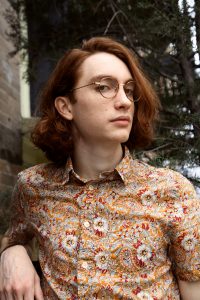 Chapter 3: Finding My Stride
I think my hair didn't get good until college. I credit Hedi Slimane, the former Creative Director of Saint Laurent, for that. I moved to New York for college, and in my freshman year, I was scouted in my school library to model for Saint Laurent. At first, I didn't think it was real. Another student, an Italian boy named Zeno, scouted me. I thought maybe he was just making it up. But I later got an email from someone at Saint Laurent asking to meet with me. When I showed up, Hedi Slimane was sitting there at the table. I recognized him immediately, because I Googled him before the meeting. It was so wild. The only thing he said to me was "don't cut your hair" in a thick French accent.
There was something about the validation from someone so respected and revered in the fashion world that made me feel really happy and connected to my hair. I feel like a one in one hundred million thing happened to me, and it was all because of my hair. For other people to notice my hair and see it as something special was very reassuring. I felt like I had been right all along.
Chapter 4: The Emerald Isle
I didn't fully connect my red hair to my lineage until college. Maybe it was the result of coming into my own with my hair color, but I have since developed a fascination with Irish history. There's this great movie that I love called "The Wind That Shakes the Barley." It's a very Irish name for a movie! The movie is about the Irish Revolution and the Irish Civil War, and while nobody in the movie has red hair, it makes me feel more connected to my ancestors. I bought myself a tin whistle, and even learned a couple songs on it. I think having red hair, even though I'm only a quarter Irish, makes me feel more Irish than the rest of my family. I like to lean into culture.
To me, culture means family, and that can mean more than just biological family. I think our culture is also who we choose to surround ourselves with. My culture is my small community of people around me. On a more macro level, I feel like my hair links me to redheads all over the world. We're a demographic that isn't bound by geography or culture. I think every one of us has felt like an outsider because of our red hair, at least at one point or another. My hair is a nice reminder that we're all connected.
Chapter 5: Outside Follows the Inside
Everyone's hair is a little different and we all care for our hair differently, but I think personality informs hair. Hair doesn't inform personality. I am a pretty eccentric person. I don't tend to follow many trends, and I can be goofy around people I know well. I view my hair as an extension of that attitude. I'm proud to be a weirdo, and I've never really been put down or attacked for my hair color, so I've always viewed my hair as something that helps me stand out in a positive way.
I love the current trend of embracing your natural self and letting your natural beauty shine through. People say every generation is more diverse than the last. That's a really beautiful thing. There are some places where having red hair is a stigma, and I'm sure there are tons of redheads out there who feel external pressure to color their hair or alter it in some way. For the sake of all my redheaded siblings, I hope this embracing of natural beauty gives them the confidence to let their natural red hair shine.
More about our Down to the Root series:
Hair is a large part of our identity. No matter if you wear your hair long, short, straight, curly, loc'ed, natural, or have none at all.
Our relationship with our hair has ups and downs, triumphs and struggles, all of which are reflected in who we are today.
Hair is often a direct link to our heritage, passed down from generation to generation and worn as a crown on our head. Or, is it a cross to bear?
In the first edition of our Down to the Root series, we share intimate stories of acceptance, personal history, and coming of age from real people. While each is truly unique, the common thread is the emotional impact that culture, both here and abroad, has had on their hair story.