Follow along as beauty editor veteran, April Walloga, visits NYC salon and head spa, Masa Kanai, for an extensive scalp assessment and treatment. 
Did you know there are spas just for your scalp? "Head spas" are common in Japan for their healing benefits, and they're slowly making their way stateside. I recently visited Masa Kanai, a salon and head spa on New York's Upper West Side, to treat myself to a stress-melting reiki and shiatsu head massage, as well as a rebuilding hair treatment and microscopic assessment of my scalp health. That's right, I got a "Honey I Shrunk The Follicles" view of my head, and what I learned completely changed my hair and scalp routine.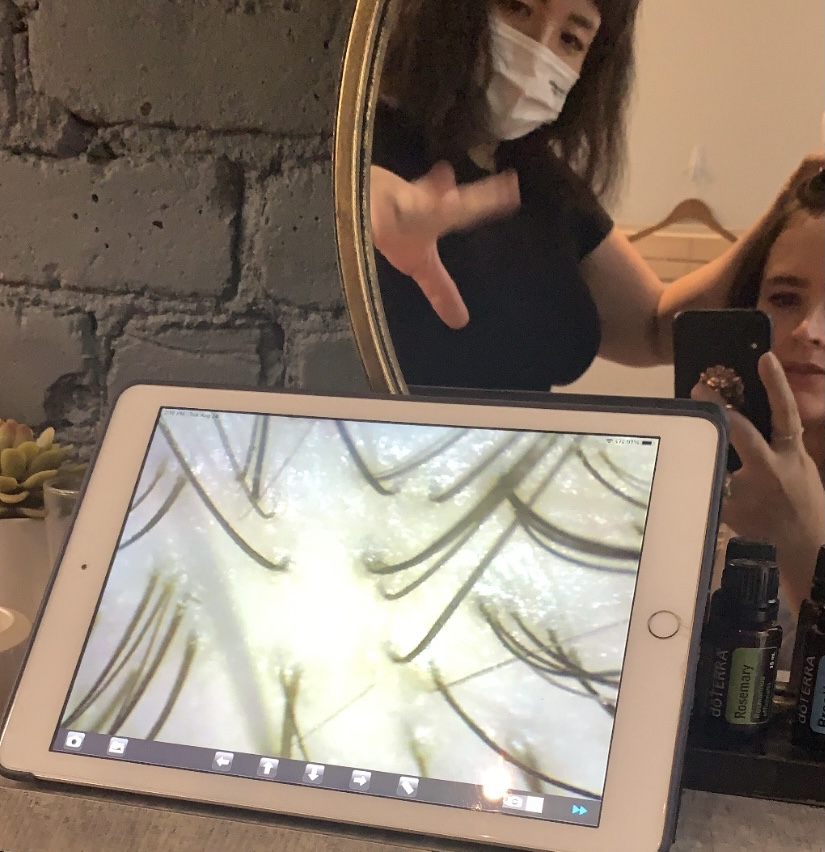 My scalp healer, Ritsuko Borges, taught me her atama (Japanese for "head") method of holistic hair care and here are five tips that you need for your  scalp right now—plus a guide on how to recreate the head spa experience at home.
1. The best way to apply a scalp mask
My usual method of applying a scalp mask is to coat my fingertips with the product and massage it all over my scalp, but Ritsuko taught me a better way. Starting at your earline, part the hair all the way down to the nape of your neck, then use your index finger to rub the product along the part using circular motions. Keep parting your hair and applying the mask until you reach your other earline. You won't miss any important spots or waste any product.
2. Natural ingredients that will improve your scalp
Ritsuko's hair and scalp treatments are built around natural ingredients that balance and purify the scalp to promote hair growth. For scalps with excess sebum or dirt, she uses charcoal- and clay-based treatments to pull out impurities and toxins, and on dry or itchy scalps she uses calming chamomile and rosemary. Since I'm trying to grow my hair longer, she applied a peppermint treatment to my scalp. Peppermint is a natural pH balancer that has been clinically studied for its ability to help to promote hair growth.
"Ritsuko is all about holistic hair care. Her atama method is an acronym that stands for aromatherapy, touch therapy, alignment massage, meditation, and awakening healing power. "
3. A simple pre-mask ritual for self-care
Ritsuko is all about holistic hair care. Her atama method is an acronym that stands for aromatherapy, touch therapy, alignment massage, meditation, and awakening healing power. She began my treatment with aromatherapy, tapping a drop of essential oil into my palms before asking me to rub them together, hold them to my face, and take three deep breaths. This simple practice immediately switches your mind to self-care mode and makes you feel at ease.
4. Scalp massage 101: Add some neck stretches and touch therapy
Before diving into a luxurious scalp massage, Ritsuko guided me through some neck stretches and swept her hands over my hair and scalp, a form of touch therapy that uses chakra open hand movements. For the scalp massage, she focused on three key areas that stimulate blood flow to the follicles: the hairline, behind the ears, and the nape of the neck. My favorite move was when she ran her index fingers from my earline to my crown and pressed down in the center. It's instantly grounding and relaxing.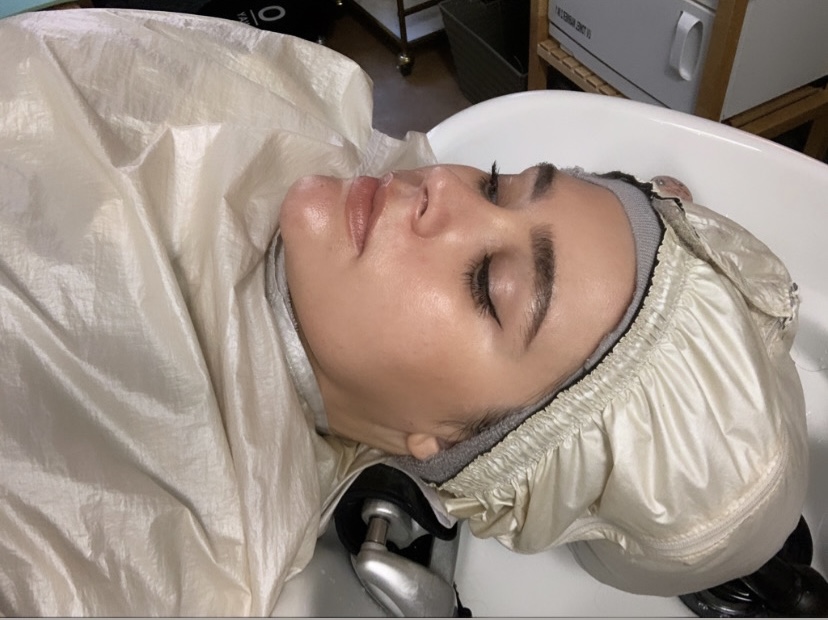 5. Less is more when it comes to products
I came to Ritsuko with four-day-old gym hair and, frankly, a little anxiety about the level of dirt and buildup she'd see when she put me under her microscope. Surprise: My scalp was squeaky clean with no buildup—an issue I thought I had and was addressing with a weekly clarifying shampoo that a) I didn't need and b) was drying out my hair. This is why Ritsuko recommends talking with a scalp specialist or a dermatologist to develop your hair and scalp routine. For my surprisingly clean scalp, oily roots, and dry ends, Ritsuko suggested shampooing my crown and conditioning my mid-lengths and ends two to three times a week and using a scalp mask every other week. Rather than overdoing it with dry shampoo in between washes, she prefers a plain water rinse followed by a detangling conditioner on the mid-lengths and ends.
How to do a head spa treatment at home:
Breathe

: Rub your favorite essential oil between your palms, cup your hands around your mouth, and take three deep breaths. 

Release

: Let go of tension by doing a few neck stretches and slowly sweeping your hands down your scalp, from your hairline to the nape of your neck. 

Mask

: After hair is wet, make a part from your ear to the nape of your neck and apply our

pre-shampoo scalp mask

along the part with your index finger using circular motions. Keep parting and applying until you reach the other earline. Allow the mask to penetrate for five to ten minutes, using a shower cap or steam for extra absorption.  

Massage

: After your scalp has had time to soak in the mask, use your fingertips to massage around your hairline, behind your ears, and at the nape of your neck. Release extra tension by bending and folding your ears as you massage and finish by tracing your index fingers from your ears to your crown and pressing down in the middle.  

Thank yourself:

Because you deserved that!
It's nice to know that even if you don't want to shell out for a full head spa treatment you can recreate the effects at home with your own products. With a little consistency and patience, your scalp health will soar.