What is a B Corp?
Certified B Corporations are companies that actively use their businesses as not only a means to sell, but as a vessel for creating real, global change. The way we see it, business should benefit more than just a bottom line. In fact, Prose was founded on two of the big pillars that hold up B Corps: diversity and sustainability. The custom nature of Prose allows for everyone to use our products, regardless of race, gender, age or any other differentiating factor. Sustainability is also inherent to Prose, as our made-to-order model allows us to completely avoid the waste that accumulates when products sit on shelves unused. Your custom hair care products can't exist without you and don't exist until you place an order.
Along with those two founding values, B Corp also requires companies to treat their employees ethically and values a diverse workforce. Prose recognizes how crucial creating an inclusive work environment is to a successful business and genuinely loves the internal community we've fostered. Other requirements include transparency and accountability. With the market being so saturated with companies that make promises of sustainability and such, B Corp is a way to funnel through all the greenwashing and go beyond marketing to highlight companies that have true intentions. B Corp ensures that companies will be held accountable for any decisions they make. The standards are strict but Prose is excited to join the league of leading businesses who are striving for global change.
How Did Prose Get Certified?
So clearly there are a ton of factors that go into a company becoming B Corporation Certified. In order to become certified, Prose went through what is called a "B Impact Assessment." There are five main categories that companies are evaluated on: governance, workers, community, environment and customers. The chart below shows the breakdown of each category and what exactly we were assessed on.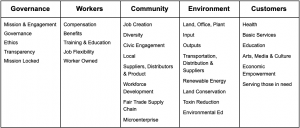 As the assessment is processed, points are tallied up and based on the total score, a company will or won't qualify as a B Corp. The minimum score to qualify is 80 and we are proud to say that Prose received an 84. As time goes on and we continue to raise our standards and practices, that score will increase. We are excited to see how far we can take our efforts and B Corp is a great way to benchmark our achievements.
What B Corp Means for Prose
In joining companies like Patagonia and Ben & Jerry's as a B Corp, Prose pledges to keep its global initiatives, human and environmental, top of mind. To kick off our efforts and celebrate officially being a B Corporation Certified company, Prose is holding simultaneous volunteer days with both our NYC offices and Paris office. In New York, our Soho and Industry City offices will be coming together to clean up Brooklyn Bridge Park while our Paris office will be along the Saint Martin Canal.
In an effort to not just eliminate the bad, but also foster good, we're partnering with the organization One Tree Planted to plant one tree per order placed from Sunday, September 22nd to Monday, September 30th. One Tree Planted is a non-profit organization whose mission is to reforest the planet by planting trees across North America, South America, Asia and Africa. These are just two of many initiatives that are coming along the pipeline, so stay tuned. We're so excited to begin our journey as a B Corporation and to see what impact we can make on the world.