1. Beechwood Cutting
It all starts in France at a fifth-generation, award-winning manufacturer where planks of dry beechwood are cut into small, workable rectangles.
2. Beechwood Shaping
After over thirty mechanical and manual passes, the rectangles are then rough cut and carved into the shape of our round brush.
3. Handle Finishing
Then, the brush handles are sanded to smooth perfection before being lacquered, polished and glazed until they gleam.
4. Cushion Drilling
In order for bristles to be inserted, holes are drilled into the rubber cushions that house them.
5. Bristle Cutting
Depending on which brush is being made, natural or synthetic bristles are cut into the desired length.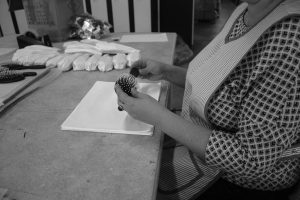 6. Cushion Assembly
The bristles are then mechanically inserted into the pre-drilled rubber cushions. Afterwards, all cushions are manually inspected to make sure that the bristle tips are frayed to perfection.
Pro Tip: A high quality brush should feel worn in, even when new, so that it can properly grab onto hair and work its magic. Think of a great hair brush as a pair of perfectly broken in shoes.
7. Final Assembly
A thin layer of glue is applied onto the handles' central section before cushions are inserted and set into place.
8. Final Touches
The brushes then undergo one last glazing to ensure that they are all uniform.
9. Prose Logo Stamping
Next, using an engraving and stamping machine, the Prose logo is printed onto the handles.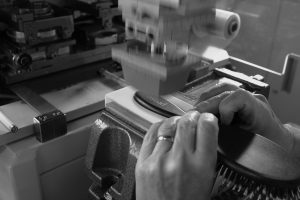 10. Customization & Packaging
Last comes the fun part when your brush is customized with your initials and packaged in its own special box, ready to be sent your way.
Looking to elevate your (or a loved one's) hair care routine and vanity with a timeless, customized brush? Browse through our expert brush guide to decide which version is the prefect fit and make your selection here.