What was your process like when designing Candela? 
When designing Candela I imagined the winter season, which for me evokes spending the holidays in the mountains with all the sensorial cravings that you have during this time of year.
Did you draw inspiration from any particular places? 
A chalet with an open fire, the warmth of the cozy indoors during the cold holiday season and a stroll in a snowy, peaceful forest.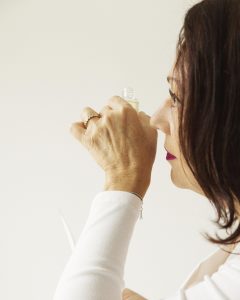 Can you speak on the notes in Candela? What makes it the perfect winter fragrance? 
Candela is a woody composition based around the warm, spicy notes of nutmeg and the resinous notes of white wood with creamy vanilla also evoking the sweet flavors of holiday treats. The sheer, soft notes of musk that feel like a cashmere sweater on bare skin and the leather notes of a cozy sofa or armchair by the fireplace also lend a hand in Candela.
How does Candela make you feel? What images does it conjure up for you? 
I picture a snug and homey, yet luminous, place. I feel the sensation of sensual and warm well-being and imagine a peaceful moment with family and friends.
Who do you think will love Candela? 
A lot of people will enjoy Candela. From nature and forest lovers to gourmets who adore the sweet and spicy notes of vanilla and nutmeg. The scent may even be quite nostalgic for some and cause them to reminisce on their grandmother's baking.
Since Candela brings a sense of calm and coziness to those who smell it, what do you do to cultivate calm or moments of quiet in your daily life? 
I try to schedule some alone time for meditating and reading. I also like to walk around Paris, simply looking at the sky and the light. I'll also go for long strolls in the forest or countryside. Dancing, singing and playing music also helps me to wind down and cleanse my mind and body.
In need of some Candela this winter? Take your Prose consultation here and scoop up this limited edition fragrance while you can!