Prose Toasted Quinoa, Cantaloupe & Cucumber Salad Recipe
By Emerald Chan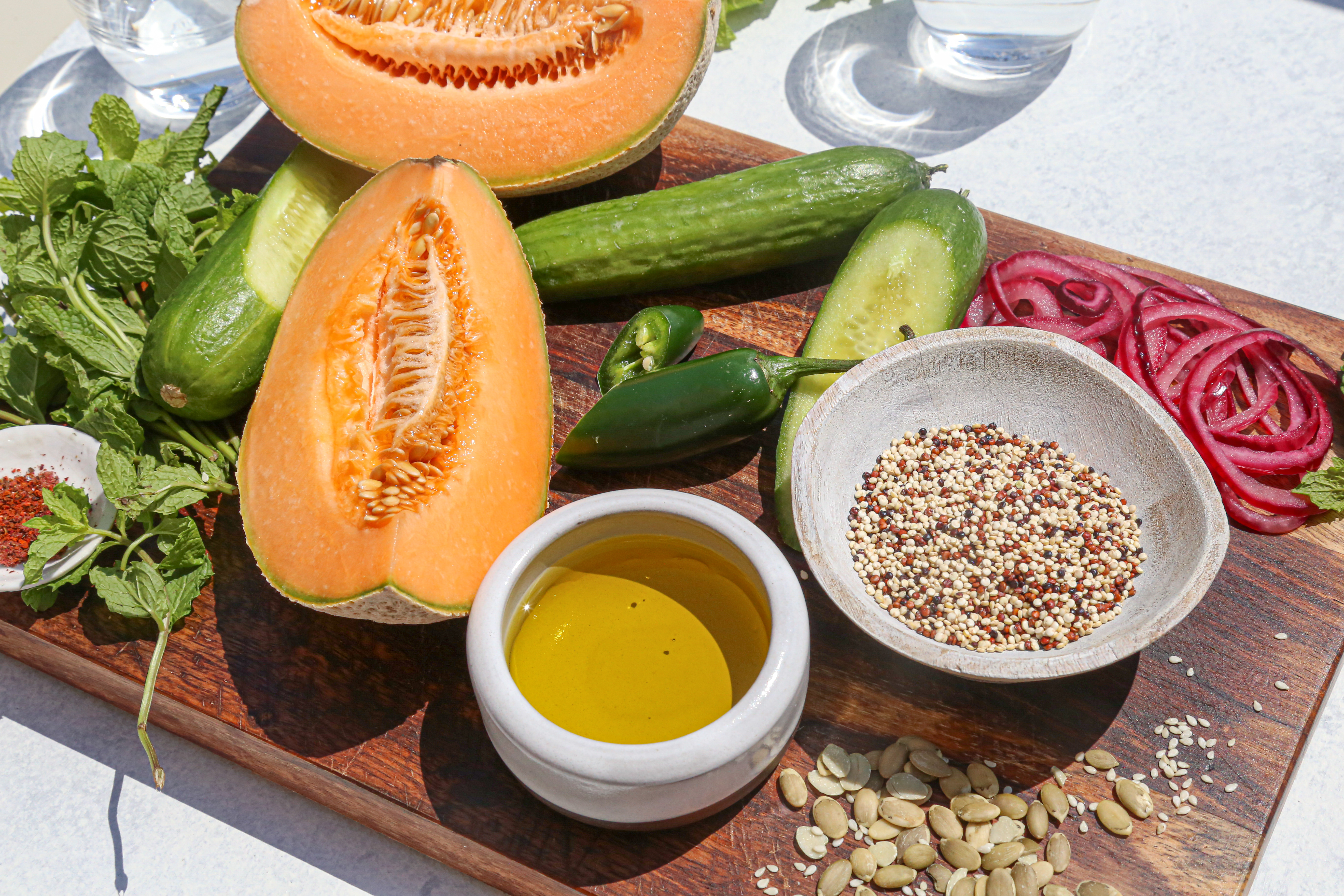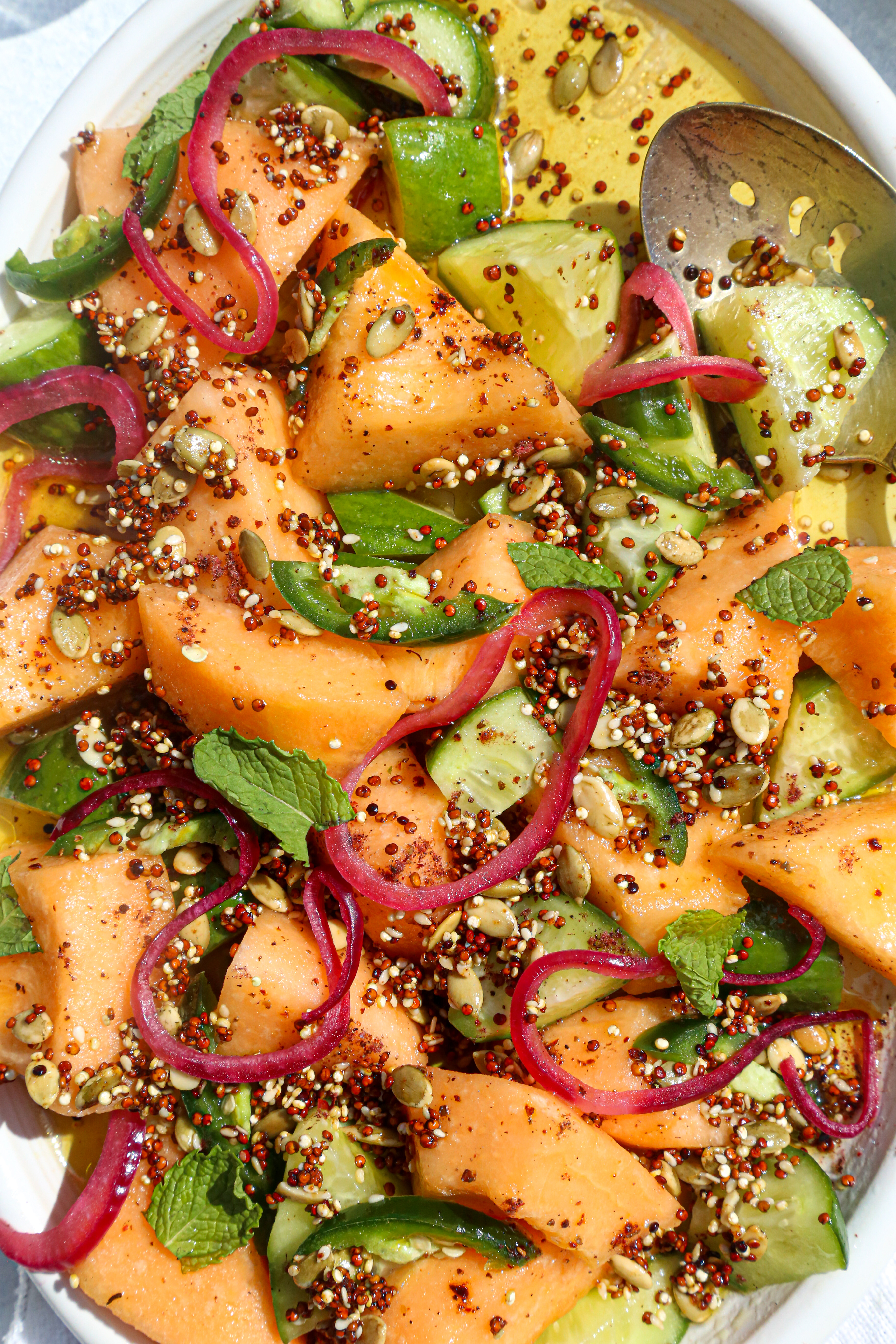 Ingredients
Quick Pickled Onions
1 small red onion, thinly sliced
½ cup water
½ cup apple cider vinegar
1 ½ tsp kosher salt
1 tsp sugar
Toasted Quinoa Topper
½ cup uncooked quinoa
1/4 cup pepitas (pumpkin seeds)
1 tbsp sesame seeds
1 tsp kosher salt
½ tsp paprika
1 tbsp olive oil
Melon & Cucumber Salad
½ large cantaloupe, rind and seeds removed, cut into 1" pieces
2 Persian cucumbers, cut into ½" pieces
1 jalapeño , seeds removed, thinly sliced
¼ cup mint leaves, torn
¼ cup olive oil
2 tbsp white wine vinegar
1 tsp honey
1 tsp sumac
1 tsp kosher salt
¼ tsp freshly ground black pepper
Preparation
For the pickled onions:
Place sliced onions into a jar with a lid. Bring water, vinegar, salt, and sugar to a boil in a small saucepan. Pour vinegar mixture into jar with onions. Let sit uncovered on the counter for 1 hour. Note: Pickled onions can last up to 2 weeks in the fridge in an airtight container.
For the toasted quinoa topper:
Preheat oven to 375F. In a small bowl combine quinoa, pepitas, sesame seeds, salt, paprika, and olive oil. Spread quinoa mixture into an even layer on a baking sheet. Bake for 17-20 minutes, mixing half way through, until quinoa is lightly golden and crispy. Let cool and transfer to an airtight container.
For the salad:
In a large bowl add cantaloupe, cucumbers, jalapeños, and mint leaves. In a small bowl, whisk together olive oil, vinegar, honey, sumac, salt and pepper. Add dressing to large bowl, toss to mix.
Serve salad topped with toasted quinoa mixture and pickled onions.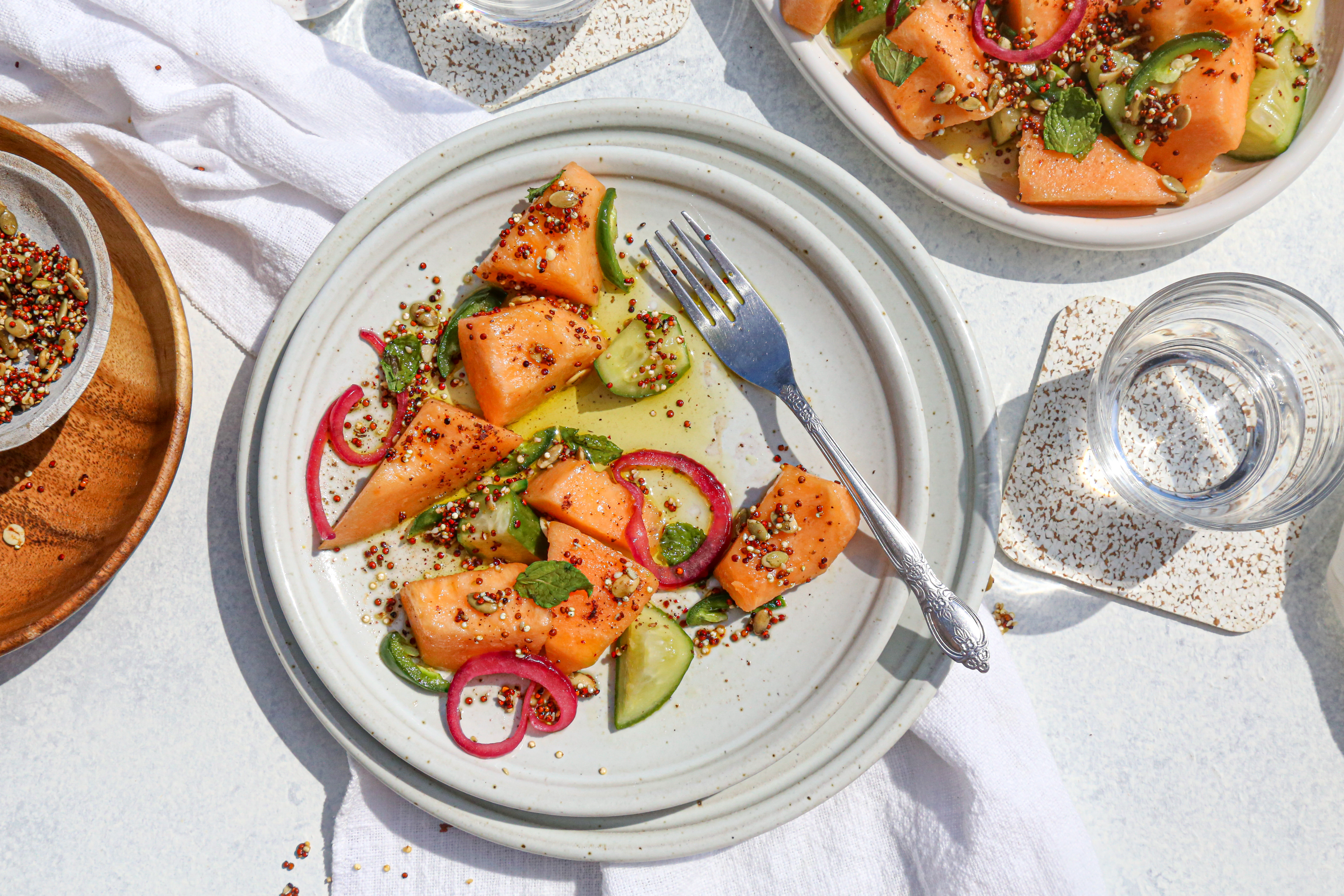 Shop this article