12 Claw Clip Hairstyles to Upgrade Your Everyday Look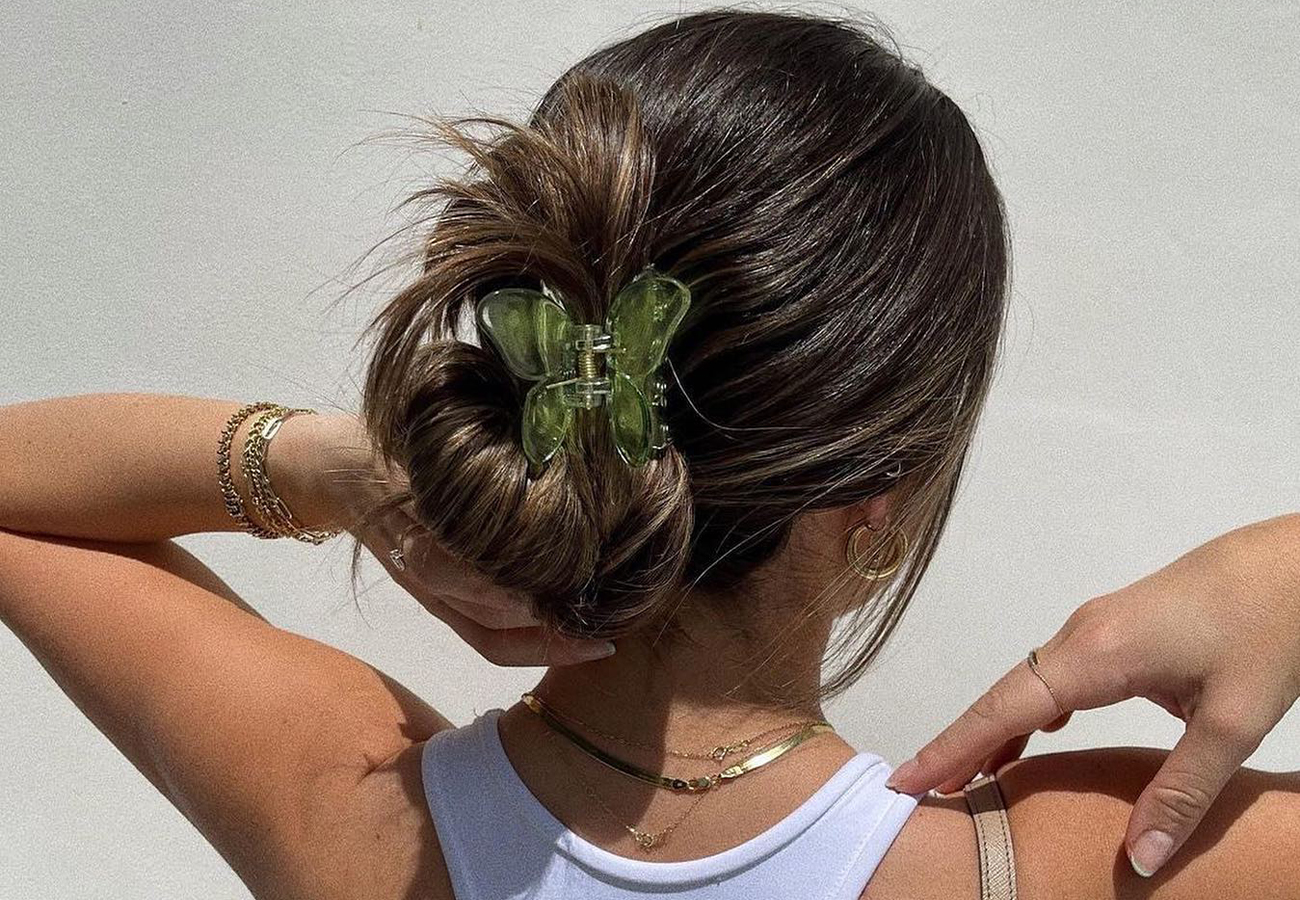 The Best of Claw Clip Hairstyles
Ready to add claw clips to your style rotation? Here are 12 modern ways to use the iconic 90s hair accessory. 
The Classic French Twist
The always-sophisticated French twist is one of the easiest claw clip hairstyles to master. Simply sweep your hair to the side, twist and secure it with a clip big enough to hold all your locks. Tuck the ends in or leave out some face-framing strands for a polished look.  
The Pushed-Up Pony
Use your claw clip to add volume to a classic ponytail. Simply tie your hair back like normal, and then divide it in half horizontally. Hold your clip vertically and lift the top section up before securing both pieces for a pony that's runway ready. 
Casual Curls
For those with curly hair, a cascading claw-clipped look is both effortless and chic. Just gather your curls loosely into a bun and secure them from below with a large clip. Let some of your curls escape the hold and frame your face to add d
Half-Up Half-Down
For both short and long hair, the half-up half-down look adds volume while keeping your locks away from your face. Starting at your ears, part your hair horizontally. Gather the top section and clip it up, letting the rest lay flat. Run some hair oil across the finished look to eliminate flyaways and build shine. 
Twists and Clips 
If you have braids or twists in your hair, you can easily jump in on the claw clip trend. Simply gather your hair up and secure it with a clip, allowing some strands to spill over. This look is both cute and a good way to keep your hair out of your face. 
The Messy Braid 
Add a trendy twist to your next braid by securing it with a claw clip. Simply braid your hair in your favorite loose style, and skip the elastic in favor of a clip at the bottom. Keep it cute and casual by messing it up slightly. 
The Loose Updo 
Give your hair a break from tight styles by parting it in the center and sweeping both sides up into a loose updo. Simple and slack, this style prevents your hair from incurring further damage. To keep your hair healthy from the roots up, add a custom scalp mask to your weekly routine. 
Low Twists
For an elegant look that comes together in seconds, claw-clipped low twists are the perfect style. Just slick back your hair with a styling gel and secure it in a low ponytail. Then, divide it into two sections and twist upwards before clipping it. 
The Messy Bun
The ultimate casual hairstyle, it's hard to go wrong with a messy bun. To elevate the look, opt for a patterned claw clip instead of an elastic band. Just twist your hair into a bun like usual and secure it with a large clip of your choosing. 
Slicked Back 
A good hair gel is a game-changer when it comes to claw clip hairstyles. Smooth the top section of your hair before clipping the rest for an easy updo. The blend of ultra-slick and textured locks creates dimension for an eye-catching look. 
The Clipped Chignon
Add an elegant twist to your claw clip look with a chignon. Starting with a low ponytail, bend the strand in half and secure it to your head with a clip, pulling out a few strands at the bottom. For this style, opt for a funky clip that draws the eye. 
Mini Clips
Claw clips aren't always wide-toothed and oversized. Dot your hair all over with colorful mini clips to shake things up and turn heads. Before styling, keep your hair smooth and moisturized with a concentrated pre-shampoo hair mask.
Elevate your hairstyling game with products customized to your needs. Take the Prose hair consultation to get your formula today.