Behind the scenes at Anecdote
The way Anecdote goes about creating their candles is unique in that they bring their customers into the process by letting them give their input on what new scents should be developed and more. "Our goal is always to make fragrance a conversation piece, and that means we want our products to be both relevant and relatable, so we run a lot of engagement campaigns…I'm always amazed at how quickly we can gather trends and synthesize our learnings," explains Anecdote founder Julie Maskulka. Another pillar Anecdote stands on is clean-burning candles. They use a coconut-soy wax blend that creates a clean and even burn while also retaining more fragrance—a win-win. In addition to clean wax, Anecdote also ensures that their fragrances are phthalate-free, cruelty-free, and always checked against industry standards.
What Good Hair Day and Individualism smell like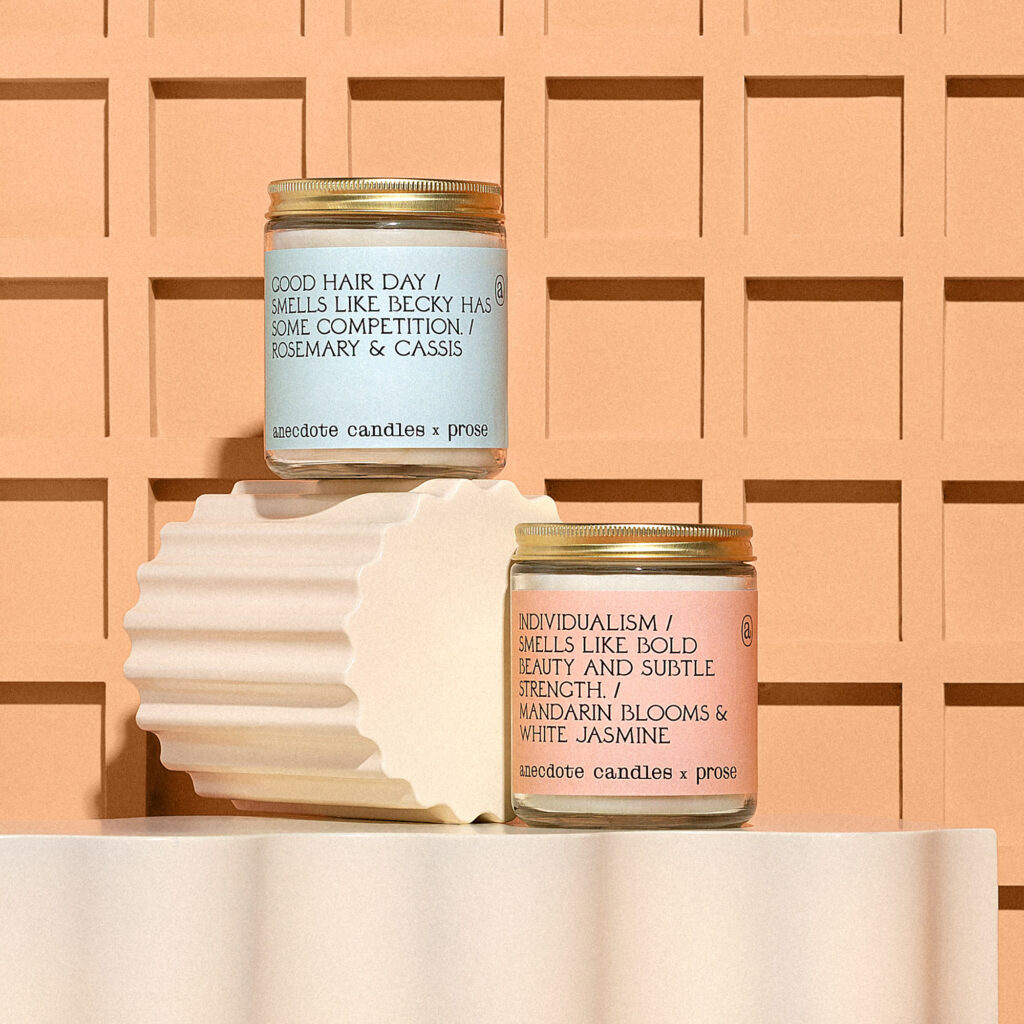 Now onto the fun part, a breakdown of the Prose x Anecdote candle scents! Good Hair Day is a blend of rosemary, cassis, and bergamot. It's zesty and uplighting, but also calming and refreshing, while Individualism is a blend of mandarin blooms and white jasmine. 
The latter is actually Maskulka's favorite of the two, although the choice was tough, "Asking if I have a favorite is like asking if I have a favorite child…but in this case I do! I love the notes included in Individualism, which is ironic because I usually do not gravitate towards citrus or floral scents…Mandarin bloom and white jasmine are the main notes, and they create this very nuanced, yet delicate aroma. Neither are your traditional soft floral notes, and the mandarin adds an unexpected brightness to a delicate floral medley. Vanilla and honeycomb add a little bit of warmth to the scent so that it is not a one-dimensional floral scent." 
Prose's Director of Social Impact, Helen Nwosu, has a favorite of her own in Good Hair Day, "My favorite is Good Hair Day aka It Looks Like Becky Has Some Competition! I actually wrote that anecdote! As you can imagine it was inspired by Beyoncé's Lemonade track, 'Sorry'. I'm guessing if someone like Beyoncé makes this reference in our culture then all of us at some time have felt some type of way about our hair. So it's a bit tongue in cheek fun and a bit snubbing our noses at this notion of good hair."
Loveland Foundation's impact
Prose will be donating an additional $10,000 on top of the Anecdote proceeds to Loveland Foundation. This organization aims to bring empowerment and healing to communities of color, particularly Black women and girls. Nwosu speaks on why providing therapy for Black women is so important. "Women find strength in even the most dire circumstances related to stress, relationships, finance, health, family, and work. Part of dispelling the myth of the 'strong, Black woman' is to acknowledge that someone can be strong but still need a platform to be sincerely cared for and a place to unpack the plethora of emotions that come with human existence." On why Prose as a haircare brand is supporting Loveland, she goes on to say, "I think it is poignant for Prose to support Loveland, given the weight that comes with having textured hair in our society, and the past atrocities surrounding Black women and their hair." 
If you're interested in hearing more of Nwosu's take on Black hair along with other panelists, Prose is hosting a discussion series called Unwrapping our Crowns that you can attend in person at NeueHouse Madison Square. The series, above all else, will be a celebration of the Black women entrepreneurs, creators, artists, and educators who have long been advocating for and engaging in this dialogue. Stay tuned for a recap here on At Length.