When it's cold and dry
Dry air can lead to dry hair. It's really that simple. Using an extra-moisturizing shampoo and conditioner is an obvious strategy, as is adding a weekly deep-conditioning hair mask. When we are creating your custom hair care, we take into account where you live and what time of year it is. So, when it's February and your home is in Minneapolis, we'd likely load up your formulas with extra-hydrating additives, such as honey, and a medley of oils like argan, sacha and jojoba.
A lack of moisture can also weaken hair because it makes strands more brittle and apt to snap. Thus, wintertime formulas at Prose may also include strand-strengthening ingredients like silk proteins, and a cocktail of collagen, hyaluronic acid and lilac.
When it's warm and humid
Since there's increased water in the air, your strands—especially if they are very porous thanks to chemical processing or frequent heat styling—will suck up that moisture and expand (that's a euphemism for frizz). Damp air may also increase moisture on the scalp and create a breeding ground for bacteria.
To combat the former, choose hair care with ingredients that smooth and close the hair's outer layer, known as its cuticle. Doing this will make it more difficult for your strands to take in extra water and become fuzzy. At Prose, one of our best frizz-fighting ingredients is Porphyra Algae, which helps to seal the cuticle and keep it shut even in sticky weather. Hair care formulas that contain hair-repair ingredients also combat frizz because they reinforce weak spots (a.k.a. holes in your individual strands) and minimize how much moisture can sneak in. Some of our most effective strand-strengtheners include collagen, lilac and hyaluronic acid, which work together to repair damaged and weakened hair, and keep out unwanted water.
To minimize the inflammatory impact of bacteria on the scalp, be sure to use a shampoo formulated to deep-clean scalp skin. Pomegranate Peel is one of our favorite ingredients to add to shampoos during the summer because it effectively deep-cleans without over-drying scalp skin.
When it's extra sunny
Abundant sunshine can occur year-round in some parts of the country (Los Angeles), while others don't see much sun until the summer (Seattle). Regardless, if the season you're in is dappled with sun, UV protection should be part of your hair care plan. Why? Similar to their impact on your skin, UV rays can dry out and weaken your hair. Wearing a hat whenever possible and avoiding direct sunlight between 10 a.m. and 2 p.m. is oft-repeated advice, and it does work (even if it isn't always practical). An easier-to-implement idea: Use hair care products that counteract the negative effects of the sun. When we're designing formulas for a client in a sunny climate, we'll often infuse it with wheat and soy amino acids plus arginine to minimize the drying effects of heat; coconut and karanja oils to provide an extra protective (and hydrating) layer, and oat lipid and sunflower seed extract to shield your hair color and minimize oxidation and fading.
Shop this article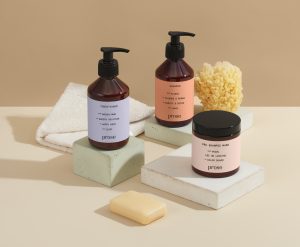 Interested in checking out Prose? Take your consultation here. 
Already have a consultation? Subscribe for 15% off every order—satisfaction guaranteed. Bonus: you get a FREE print copy of At Length.