Low space buns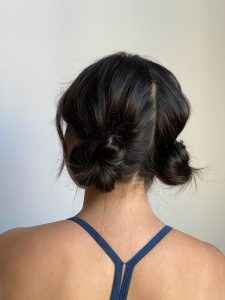 If your hair is shoulder-length or longer, you can't go wrong with a knot at your nape, so why not double the fun and try two buns instead of just one? Divide your hair into two low ponytails—one behind each ear—and secure the base of each with an elastic. Now, wind each tail around that base until only an inch of hair remains loose, then tuck that inch beneath the elastic to secure the bun. If your hair is very thick (or fine and slippery), you may want to wrap a second elastic around each base to keep your ends from springing loose.
Top knot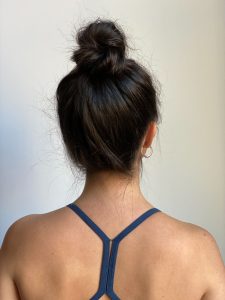 "Almost anyone can pull off a high ballerina bun," says Candy Diaz, a stylist in New York City. It keeps the neck and hairline cool, it's tidy, and it's easy. Just pull hair into a high ponytail and secure with an elastic. Then, wrap the tail around the base and tuck loose ends under the elastic, sliding in a few bobby pins for extra stay-put insurance. If your hair has lots of layers—or the back is a bit short for a high pony —Diaz suggests holding strays in place with an elastic headband or "a line of bobby pins up the back of your head."
Pro Tip: "A high bun is also a great time to sneak in a hair treatment," suggests Diaz. Apply a hair mask or oil from mid-lengths to ends, then wrap your hair in the high knot. The heat emitted from your scalp while you exercise helps with product penetration. Wash out post-workout. 
Braided pony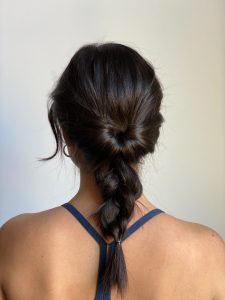 A classic ponytail is a gym staple, but if you want to make things a little more interesting, try this tweak: French braid just the front of your hair, weaving until you reach your mid-lengths. Then pull the rest of your hair into a pony, cinching the end of the braid when you wrap an elastic around the base of the ponytail. Bonus: The braid will also keep shorter layers around your face from falling loose.
Pro Tip: For those who are not adept at French braiding, Diaz suggests you flip this style. Start by pulling all your hair back into a ponytail, secure the base, then weave just the tail into a traditional braid.
Half-up, half-down bun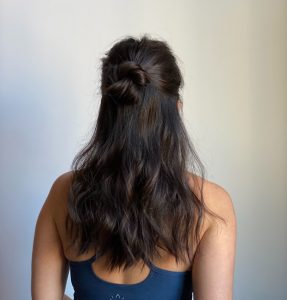 If you're planning to do some strength training sans cardio (so, presumably, you won't sweat as much) you may opt for a 'do that's off your face, but not off your neck. A simple, chic strategy: Pull just the top half of your hair into a high loose bun at your crown and allow the bottom half of your hair to hang loose.
Crown braid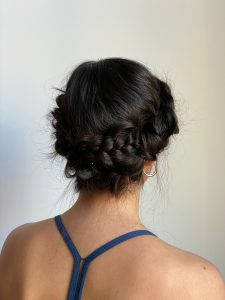 This style not only guarantees that your strands will stay put, it also helps keep sweat from dripping down your brow. To get this look, section out hair just above one ear and French braid around the front and down the opposite side. Gather hair into a low bun to secure.
To score healthier hair while you sweat, create a customized treatment you can apply to your gym 'do. Get started with your Prose consultation here.