Experiment often
As I mentioned above, my hair rarely stayed the same from appointment to appointment. I've lost count of all the times I've cut and grown out bangs. I'll admit that now, as a busy mom of three, I've grown a little complacent with my hair experiments. So, when I get that not-so-subtle 12-week reminder from my hair salon (whoops!), I'll start searching Instagram or Pinterest for new style inspiration to bring to my next appointment. The takeaway: Life is short; change up your hair. Cut the bangs. Make the chop. Add the layers. It all works. And if it doesn't, it all grows back.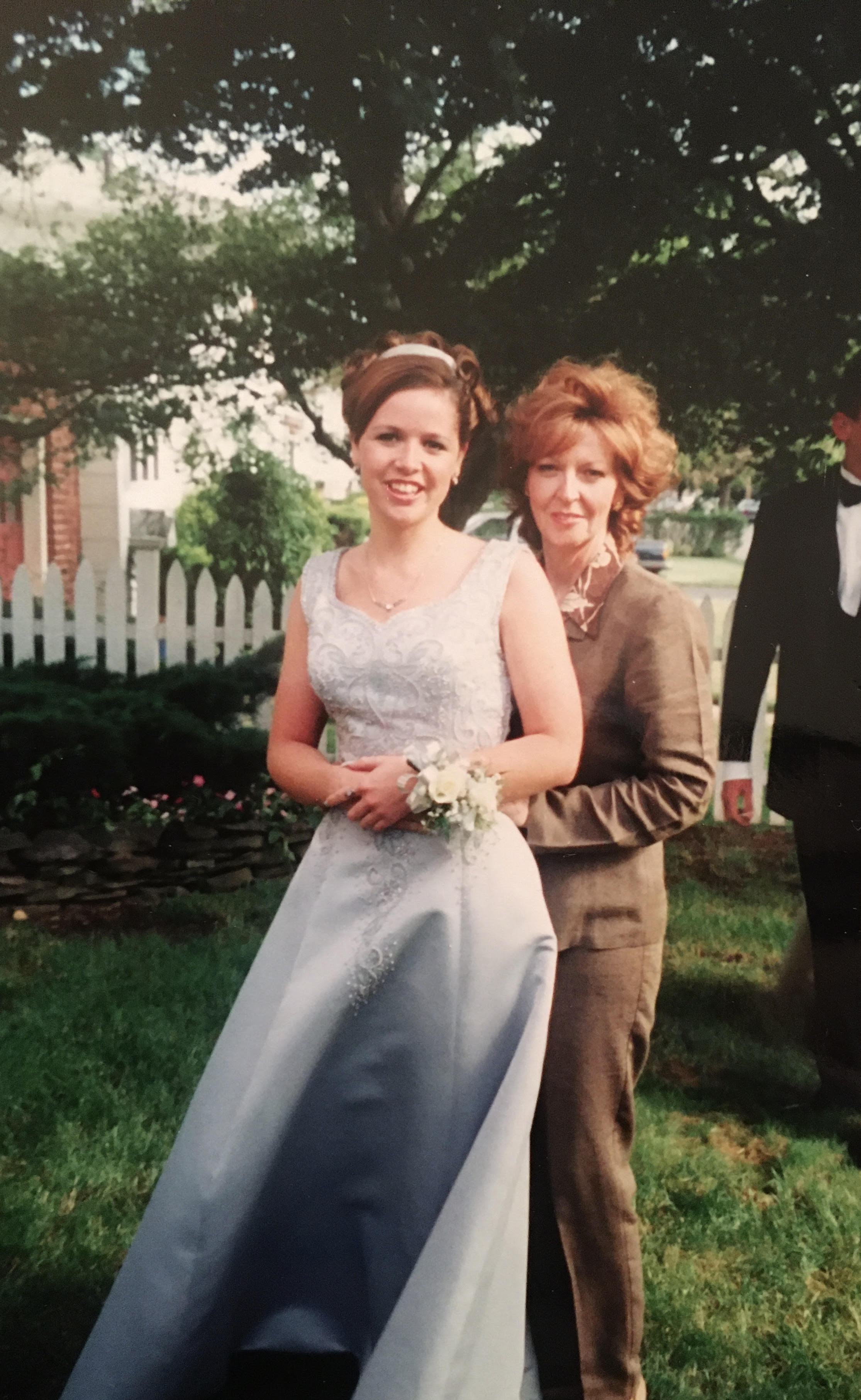 Don't color until you need to
I'm probably going to catch some heat from my colorist and balayage-loving friends for saying this. Trust me; I get it. Hair color is fun. My mom, a natural redhead, colored her strands to keep them vibrant with age, but she always told me to hold off until I had a reason to hit the salon. Of course, I didn't heed her advice in high school and came home with stoplight red hair from a box. I also saved all my after school job money for a head full of bad cap highlights. But my mother had a point: Dyeing your hair can be damaging, and once you start, it's hard to stop. In my late 20s, despite having access to some of the top colorists in the world (thanks to my job as a beauty editor), I decided to embrace my natural hue (chestnut brown) until I had grays to cover. Considering I've recently spied my first silver strand, it's game on real soon.
Always have a side hustle
My mom eventually left the salon scene to be home with her family, but she continued to cut hair for neighbors and friends in my kitchen, earning herself some extra pocket money. And when my father passed away unexpectedly when I was just six (my brother, eight), her little side gig helped to keep us all afloat. The lesson that stuck with me: hustle. As a tween and teen, I delivered newspapers, babysat, and worked at a local bagel store and a doctor's office. Now as a freelance writer, my goal is to always have multiple streams of income. If one dries up (and they always do), I have other means to rely on.
Put your best hair forward
I worked alongside my mom at a doctor's office for several summers. Every evening after we clocked out, she would comb her hair, spritz some hairspray, and put on lipstick. I was ready to throw my hair into a messy bun and call it a day, and she was getting coiffed all over again!? My mom still doesn't go anywhere without "freshening up." She's always polished whether she's going out to dinner or hitting the grocery store. When I'm about to run errands looking like I've crawled out of a cave, I can hear her voice in my head telling me to at least pull my hair into a chic ponytail and apply some lip gloss.
Old-school hair tricks can be awesome
A prom updo from my mom was truly a work of art. It took hours, and had multiple steps, including pin curls and a cool trick that involved pulling it all in tighter with a bandana. Those curly updos would've lasted for days if I didn't take out all 857 hair pins as soon as I got home. Mom had some serious hair hacks. And while it's literally my job to find new beauty tips, there's something to be said about the retro tips I've gleaned from her over the years, including:
Gently backcomb your crown to create lift that doesn't look teased or stiff
For the perfect side hair part, line it up with the iris of your eye
Despite all the fancy wands out there, hot rollers are the real secret to big, soft waves
Spray hairspray six-to-eight inches from your head to avoid a shellacked look
Speaking of hairspray, use a flexible one not only for hold, but also to add texture and volume; spritz and tousle
Beauty has literally shaped my life. I owe everything—from those ever-changing hairstyles to my career as a beauty editor/writer—to my mom's trade. She taught me the value of a dollar and a good hairbrush. I may not have inherited her fiery red strands, but I did get her fierce determination and love of all things hair.
Try custom haircare, made just for you