Reap all the Rewards Silk and Satin Have to Offer Your Hair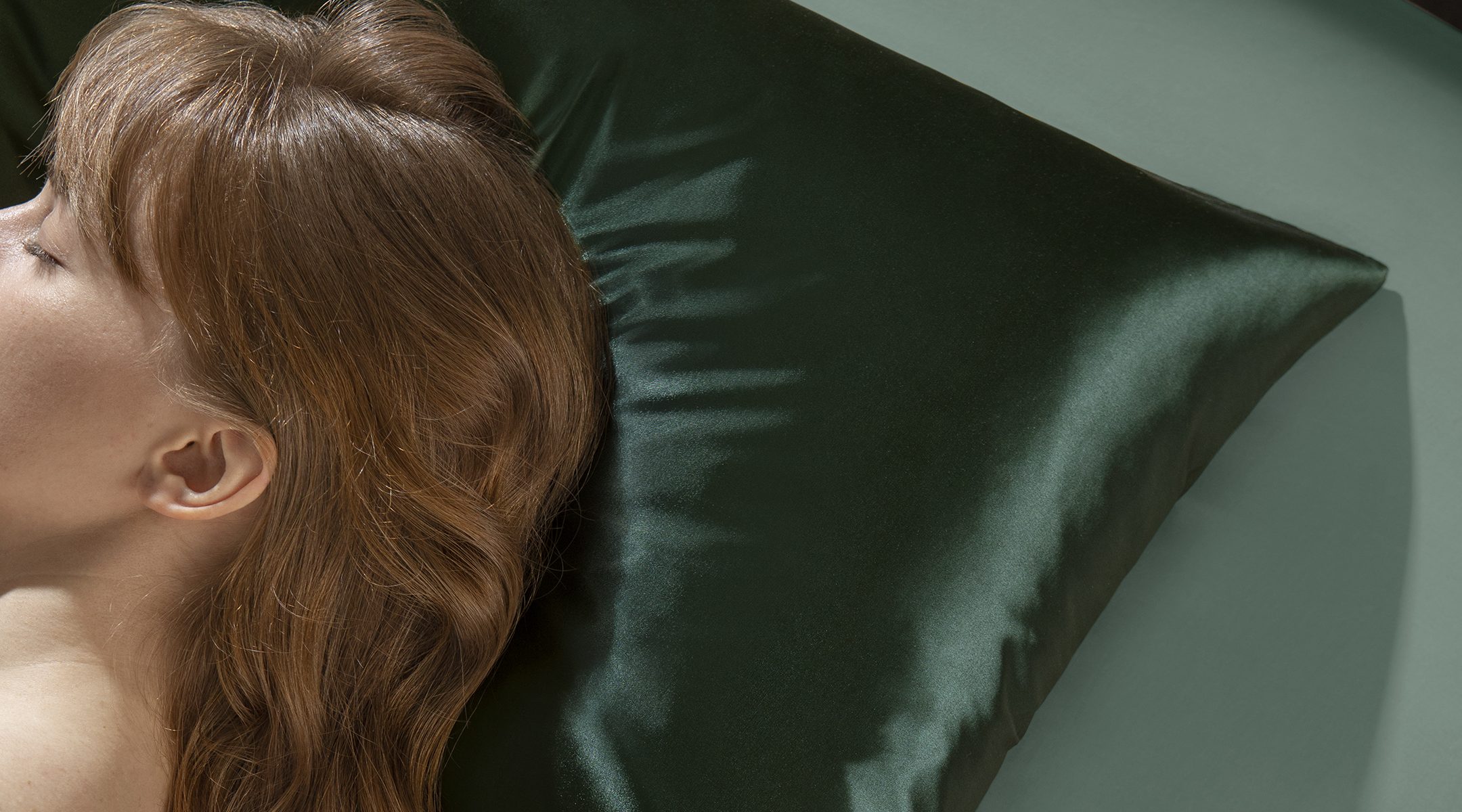 Think of the sensation you get when you run your fingers along a luxe piece of silk—it's insanely smooth, right? Well, it just so happens to have the same effect on your hair, which is why you see silk and satin popping up in every hair accessory you can think of, even pillowcases. "Satin and silk both have roles to play when it comes to your hair," says Gina Rivera, founder of Phenix Salon Suites. "Silk is good with the hair because it's gentle and it allows the hair to move, unlike many other fibers and materials. Satin is also unique as it tends to be more absorbent, which promotes maintaining natural oils and keeping moisture in the hair." To let your locks reap the rewards, add these silk and satin accessories to your arsenal.
Pillowcase
Sleeping on a silk pillowcase won't just make you feel like a princess—it'll also do wonders for your hair. There's a good reason plenty of pros recommend it to keep a blowout intact. "Silk has minimal absorbency, so using a silk pillow or hair cap will not absorb or transfer any of the hair's natural oils," explains Anita Sun, hairstylist at Eliut Salon. "Second, it reduces friction. Using a pillowcase allows hair to glide as you move during sleep, or a silk hair tie will reduce any pulling or creases of the hair."
"Hair is very sensitive, no matter what the hair type may be," says Faith Huffnagle, Prose's Director of Education and veteran stylist. "We spend roughly eight hours a night sleeping, so making sure our hair is in contact with quality fabric during that time is very important. Smooth fabrics like silk or satin encourage healthy, strong strands with less frizz and split ends." If you're still not sold, another reason to make the upgrade is that cotton pillowcases can eventually lead to wrinkles in your skin.
Silk scarf
This is an accessory you can literally sport 24/7. During the day it's a fun way to play with your style without doing any damage to your locks. At night, wrapping your hair in a silk scarf while you snooze safeguards your hair, especially if you sleep on a cotton pillowcase. "Sleeping on silk causes less friction on the hair, particularly on the outer cuticle," Huffnagle says. "Silk doesn't rob hair and skin of moisture the way cotton does, and it also eliminates 'hair rug burn.' Wrapping hair in a silk scarf will also ensure a hairstyle won't fall out of place, like if you're sleeping in rollers, for example."
Plus, since a silk wrap can keep a style in place, both in shape and texture, not only does it save time, but you won't have to apply more hot tools to fix your style, points out Sun. That means less heat styling damage in the long run. Make sure to wrap your hair in a silk scarf properly. "First, be mindful of the way you wear your hair," Sun says. "If it's straight, start at your part combing in the direction you want the hair to fall. Pin against the head, looping around the whole head until all the hair is secured. If your hair is curly, leave it loose, tucked into the scarf. Or twist it into a loose bun at the base of the neck or on the top of the head. This will help curls maintain their shape. To protect the roots, you can also wrap the scarf around the crown of the head, like a headband. Leave hair out and sleep on a silk pillowcase. This will keep the scalp from getting frizzy."
Scrunchie
Your hair will be happy this '90s staple is back if you opt for one in satin or silk, since it prevents the pulling and breaking of hair, especially when putting hair up or taking it down. Elastic bands can be seriously bad news for hair health. "The consistency of both silk and satin allow the hair to glide across it rather than be pulled on like some fabrics tend to do," Rivera says. "This is especially true with ponytail ties where elastic is utilized to hold the hair. Meaning, a hair tie created with cotton versus satin or silk is more likely to damage the hair because the hair lacks the ability to slide easily across the fabric."
Silk-lined hat
Hat hair is never a good look and wearing a silk-lined hat is an easy way to prevent it, since it'll keep your style looking fresh. "The material is far less harsh when it comes to pulling the hair in contrast to other fabrics such as polyester mixes, cotton and wool," Rivera says. "With a satin-lined hat it's also easier to keep the moisture in the hair as well."
Headbands
This accessory is all the rage right now, and it's a trend we can get behind. "Headbands are great for when you're washing your face, doing a mask or skincare treatment or just as a fun accessory," Sun says. Plus, Huffnagle adds that satin headbands are wonderful to keep hair back without creasing.
And even silk proteins
At Prose, we even incorporate silk into our products via silk proteins in our mask, shampoo and conditioner. Silk proteins are known for their anti-breakage and heat protection properties. They can help strengthen and reinforce locks, thanks to their content of cystine, one of the main amino acids needed to produce keratin. And because silk proteins possess an insane ability to retain water, they infuse the hair with moisture and repair damage. It's a one-two punch: hydration and strengthening.
Starting on February 6th, for Valentine's Day we're spreading the love by gifting a satin pillowcase with every Prose purchase equal to or higher than $50. Get started with your consultation here to receive your very own custom formula.